Progress with Level-Pack
As already announced eight additional levels for Grappling Hook will be released with the next update. That means the full version will contain 30 levels.
The first version of all new levels is finished. I've create nine, but will drop one of them, because it doesn't meet my quality standards.
Some of the new levels are entirely non-linear, so you will be free to decide, what to do next.
The new levels also feature puzzles, where you have to use the Grappling Hook in entirely new ways. They are also harder than the other levels.
Polishing, testing, and improving the levels will take a few more days. Stay tuned!
This is a screenshot of one of the new levels: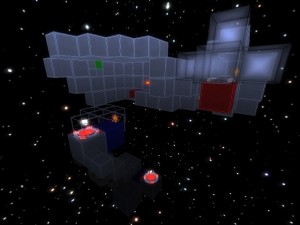 New Review
The developers have done a great job of throwing out new challenges, with something new coming at you at all times. [..] the game does a wonderful job with the first-person point of view and creates a surprisingly immersive environment. Pair that with smart puzzles and plenty of fast action and you'll stay grappling for a very long time!
Jay is Games
Please vote with some mushrooms for Grappling Hook, when you are already on the site.
Windows & Mac Version Available via GamersGate
You can buy Grappling Hook now in the GamersGate store. Some of you may prefer this.
GamersGate is a great company. The staff is helpful, responds quickly, and I really like them. They are one the most indie friendly online distributors.
I'm also in touch with some other distributors and hope to release Grappling Hook on their platforms within the next weeks.
Where have you bought games online?
What is your favorite online game store?