Laura Shigihara, a game designer and the composer of the "Plants vs. Zombies"-music, asked me about the level design process and I want to share this with you.
1. The Idea
Every puzzle, situation, or experience for Grappling Hook started with a simple separate idea.
My first puzzle ideas had been straightforward. I just thought about, how the Grappling Hook could be used.
Some puzzles are inspired by other games, like Mirrors Edge, Portal, Braid, Super Mario, …
This is interesting for me, because the game mechanics are very different and it is somehow an experiment, where I want to see, if the grappling hook is powerful enough to solve these situations.
The "Compactor" level for example, was inspired by Super Mario and Star Wars.
All of my favorite ideas for puzzles were born during playing. I love to watch how other people play the game. In the first month, almost every tester played the game different. Even later some testers explored new ways, how to use the Grappling Hook.
It also happened more than a few times, that I explored a new move/trick just by chance. The strong use of air-control to jump around corners, accelerating with the hook just by clicking for half a second, or "bouncing" off walls are some of those tricks.
This was always most exiting, because the game was already able to perform these tricks, but I didn't know it was possible. The exploration of these new possibilities and later creating quests, that required the "new" features to solve the quest, was really a lot of fun.
2. The Sketch
For most puzzles I've created a simple sketch.
These are some of the first sketches with level ideas I've made for Grappling Hook: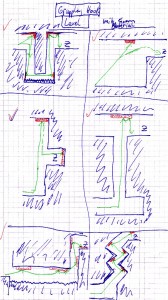 Everything blue is level architecture. Red marks surfaces, where you can use the hook. Green is the path of the player or how he has to use the hook. Z is the target ( German: Ziel ).
At this time no dynamic level elements were planned and I have not even thought about a concept for the level-editor.
continue reading…